Our hotel rooms – as individual as you are
You will find our comfort, double and single rooms on our farm in the thatched main house, the "Witte-Haus" and the "Appel-Haus". Each of these houses and each room has its own character and appeal – enjoy the unique atmosphere.
All our rooms are equipped with shower and WC (some with a bath tub), TV / satellite TV and telephone.
Guaranteed check-in 15:00 to 18:00. In case of later arrival, please inform us. Check-out is possible until 11:00.
The main building of Hotel Hof Tütsberg …
Our thatched main house is the oldest building at Hof Tütsberg and was first documented in 1592. It has one single, two comfort and four double rooms with a rural atmosphere that will delight you. You will also find the restaurant and front desk here.
The "Witte-Haus"…
The "Witte-Haus" is furnished in a rural-rustic style and has been thoroughly renovated. It has one single room, one family room (4 to 5 persons), two comfort double rooms and seven double rooms.
The comfort double rooms have modern furniture and are a bit bigger. The "Witte-Haus" is about 40 m away from our main house. Here you will also find our modern conference room with a variety of possible uses.
By the way, the house was named after the Schneverdingen painter "Frido Witte".
The "Appel-Haus"…
Our "Appel-Haus" is the third guest house. It has a thatched roof like the main house and is decorated with fresh color accents in a romantic-modern style. Here you will find our cedar room and our honeymoon room (two comfort rooms of a special kind), three double rooms and two other comfort rooms. A small sauna can also be used by our guests.
Culinary thoughts were the inspiration for the name: Heinz Appel from Hanover coined the German term Feinkost ("delicatessen"). He was also an enthusiastic hiker in the Lueneburg Heath.
Our room categories
Double rooms
Our double rooms are individually decorated and comfortably furnished.
Cedar & Honeymoon rooms
If you like a special romantic style, these two rooms will be your best choice.
Comfort rooms
If you would like to stay in a comfortable atmosphere and have more space, then choose one of our comfort rooms.
Family room
Under the roof of the "Witte-Haus" you will find our large family room.
Sauna and lounge
We offer you in our country hotel in the middle of the Lueneburg Heath a small sauna area in the "Appel-Haus". Spend some relaxing hours there. A Finnish sauna and a lounge with furniture made of juniper wood typical for the heath await you.
Bathrobes are available to our guests free of charge.
For your perfect relaxation, we are happy to book a massage therapist. Please contact us.
Private Spa* – currently not available!
Enjoy our small sauna area exclusively with a massage. Leave your everyday life behind and treat yourself to some time out!
Our offer for absolute relaxation
Our small sauna area exclusively for your use for four hours
including bathrobe
Prosecco or non-alcoholic apple sparkling wine with fresh fruit
Back massage 25 minutes per person
Sauna romantically decorated with flowers and candles.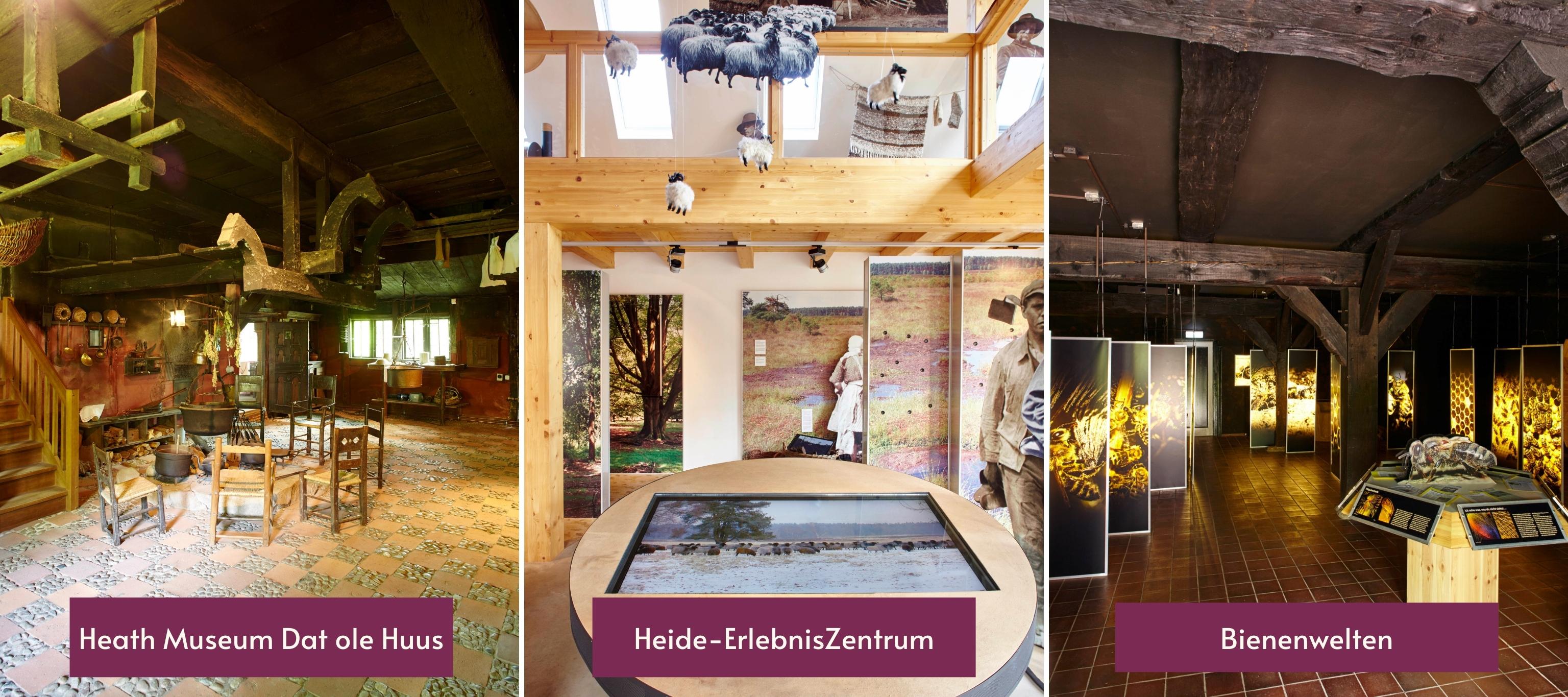 There is more to see in the Lueneburg Heath than you may think!
Are you planning a holiday in the Lueneburg Heath?
If so, we have some ideas for you!